PROFILE
-プロフィール-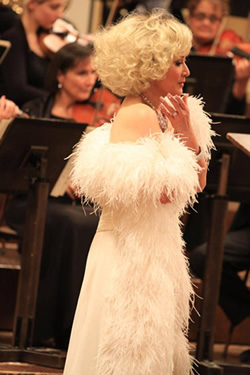 松井菜穂子(ソプラノ歌手)
東京出身 現在パリ在住
学歴 :

田園調布雙葉学園(小学校~高校)
東京音楽大学声楽科を首席で卒業 同音楽大学研究科修了
賞歴 :

第28回文化放送音楽賞受賞
第18・20回日伊声楽コンコルソ入選
第51回 日本音楽コンクール入選 など
出演 :

オペラ「ウィンザーの陽気な女房たち」のフルート夫人役でオペラデビュー。「蝶々夫人」の蝶々夫人、「ボッカチオ」のフィアメッタ、「椿姫」のヴィオレッタ、「フィガロの結婚」のスザンナ、「電話」のルーシー、「ルクセンブルク伯爵」のアンジェールなど。
1998年~2008年、毎年「Naokoの気軽にクラシックShow」を開催。
それまでのクラシックコンサートの常識を破り、曲間に自らトークを行ない、親しみやすいクラシック音楽を提供する為に尽力。また学校コンサートに参加し、日本全国各地の高校を回りクラシック音楽の普及に努める。
1993年~2009年、毎年高輪プリンスホテル貴賓舘に於いて
クリスマスディナーショーを開催。その他ホテル等々のディナーショーに多数出演。
2005年11月、中国上海に於いて中国初コンサートを開催したのを皮切りに、瀋陽、撫順、長春、北京、大連など中国各地でコンサートを開催。
2009年10月、成都に於いて「四川大地震の為のチャリティーコンサート」を企画。自ら現地日本企業を度々訪問し、寄付金を集めコンサートを開催。
2007年~2010年、中国から演奏家を招聘し、東京オペラシティホール等でコンサートを開催、中国人一流演奏家を日本の聴衆に紹介。
2010年、音楽を通じて積極的に日中友好活動に貢献したことが評価され、北京人民大会堂にて≪日中友好に貢献した60人の日本人≫のひとりとして、中国政府より表彰。
2011年6月、北京国家大劇院(通称=卵)でのコンサートをひとつの区切りとして、中国に於けるコンサート活動は一旦休止。活動拠点をパリに移す。
その後、パリを拠点にフランス国内およびヨーロッパ各地でコンサートに出演、現地のオーケストラとも共演するなど、積極的に活動を続けている。
Naoko Matsui
Born and raised in Tokyo, Naoko studied at Denenchofu Futaba Gakuen from primary school through high school. In pursuit of a career in music, she entered Tokyo College of Music where she graduated at the top of her class. After completing her post-graduate studies at the Tokyo College of Music Graduate School, she was invited to appear at the prestigious Yomiuri Shinjin Ensoukai (Yomiuri Concert of New Musicians and Artists), NHK-FM Fresh Concerts and other venues for up-and-coming artists. During these early years, Naoko's achievements in major domestic competitions include award-winning performances at the 28th Bunka Radio Broadcasting Co. Music Competition, the 18th & 20th Japan-Italy Vocal Concorso and the 51st Music Competition of Japan as well as excelling at high-profile auditions such as the NHK-FM Western Music Auditions and Tokyo Bunka Kaikan Concert Auditions.

In 1994 and 1998, Naoko travelled to Italy, the home of opera, where she studied in Milan. Her operatic debut in the role of Frau Fluth in Die Lustigen Weiber von Winsdor was followed by numerous principal roles including Cio Cio San in Madame Butterfly, Lady Fiametta in the operetta Boccaccio, Violetta in La Traviata, Susanna in Le nozze di Figaro, Lucy in Menotti's comic opera The Telephone and Angèle in Der Graf von Luxemburg.

From 1988 to 2008, Naoko has hosted an annual recital entitled the Naoko no Kigaru ni Classic Shima Show. With the aim of breaking the conventional classic concert mould, she engages the audience with insights, anecdotes and comments between pieces, striving to make the classical music experience more relaxing and approachable in inimitable way.

She also has been delighting her growing fans with annual Christmas dinner shows held at the Kihinkan Guest House, Grand Prince Hotel from 1993 to 2008.

Since launching concert activities in China with her debut concert in Shanghai in November 2005, she has performed before audiences in Shenyang, Fushun, Changchun, Beijing, Dalian and other major venues in China.

In October 2009, Naoko planned and held the 2008 Sichuan Earthquake charity concert in Chengdu to raise money for the victims of this tragedy, personally calling on Japanese companies for their cooperation and support.

Between 2007 and 2010, she invited top-class Chinese performers to Japan where their talents were showcased in joint concerts before Japanese audiences.

Her many contributions to Japan-China Friendship through the borderless language of music were recognized by the Chinese government in October 2010 when she was chosen as one of the "60 Japanese who have made a valuable contribution to Japan-China Friendship" and received a commendation at an event celebrating the 60th anniversary of the founding of Japan- China Friendship Organization held in the Great Hall of the People.

After her concert at the Beijing National Theatre in June 2011, she decided to suspend her production and related performance activities in China to focus on Europe.

In July 2011, the concert Enchantement d'été à Paris was held at the venerable Salle Gaveau and was a resounding success! In 2012, Naoko continued her activities in France with a concert at the famous Théâtre Musical du Châtelet à Paris in April followed by events in Massy and Yerres with the Orchestre de Massy in September and finally a performance with the Orchestre Symphonique Lyonnais at La Grange au Lac in Evian in October.

2013 opened with a New Year's concert at Oratoire du Louvre church in the heart of Paris, auspiciously on a date that celebrated both the Western and Chinese new year. It was followed by a soprano recital at the Salle Cortot in April, and two concerts in May – Opéra de Vichy (France) on May 11 and Victoria Hall (Geneva, Switzerland) on May 17.

Autumn of 2013 began with concerts in Austria in memorable musical sanctuaries like the Musikverein in Vienna and the Mozarteum in Salzburg.

In 2014, Naoko decided to have a better proximity with her audience in choosing smaller concert halls (but with perfect acoustic) and adding original pieces to her classical repertoire: Japanese, Chinese and French songs.
Naoko Matsui
Apres un parcours scolaire classique a Tokyo, sa ville natale, Naoko decida d'entreprendre une carriere musicale. Sa voix deja prometteuse lui ouvrit les portes du Tokyo College of Music d'ou elle sortit major de sa classe. Elle fit ses premieres apparitions dans le cadre du prestigieux Yomiuri Concerts destine a promouvoir les jeunes espoirs.

Les prix gagnes dans de nombreux concours confirmerent le talent de Naoko (par exemple, au 28eme Bunka Radio Broadcasting Music Competition, au 18eme et 20eme Concours vocal Italo-japonais et au 51eme Concours musical du Japon).

En 1994, Naoko poursuivit sa formation a Milan, la capitale de l'opera, et obtint en 1998 ses premiers roles : Frau Fluth dans Die Lustigen Weiber von Windsor, Ciao Ciao San dans Madame Butterfly, Lady Fiametta dans Boccaccio, Violetta dans La Traviata, Susanna dans Les Noces de Figaro, Lucy dans The Telephone, Angele dans Der Graf von Luxembourg.

De 1988 a 2008, Naoko institua un recital annuel, le Naoko no Kigaru ni Classic Shima Show ou, dans son style tres chaleureux, elle faisait participer le public afin de briser le moule conventionnel du concert par une approche plus ludique de la musique classique.

De 1993 a 2008, le succes de son Diner de Noel au Grand Prince Hotel de Tokyo ne s'est jamais dementi.

A la suite de sa performance a Shanghai en 2005, Naoko Matsui enchaina une longue serie de representations en Chine (Shenyang, Pekin, Dalian, Fushun…). Elle organisa en 2009 un concert de charite au profit des victimes du terrible tremblement de terre du Sichuan en faisant appel a de grandes societes japonaises. A la meme epoque, elle invita de nombreux talents chinois a participer a ses concerts au Japon. Ses multiples contributions en faveur de l'amitie entre la Chine et le Japon ? grace au langage de la musique qui ne connait pas de frontieres ? valurent a Naoko d'etre citee par les autorites chinoises parmi les ≪ Soixante personnalites ayant hautement contribue a l'amitie sino-japonaise ≫. C'est ainsi qu'elle eut l'honneur d'etre invitee a se produire au Palais de l'Assemblee du Peuple pour le 60e anniversaire du traite d'amitie entre les deux peuples.

Apres un concert au Grand Theatre National de Pekin en 2012, Naoko Matsui decida d'explorer d'autres rivages et choisit l'Europe.

Des relations avec l'Orchestre de Massy et des solistes de l'Opera de Paris aboutirent a l'organisation d'un concert a la Salle Gaveau en 2011. L'excellent accueil du public milita en faveur de la poursuite de son partenariat avec ce remarquable orchestre.

Ainsi, l'annee suivante, Naoko se produisit au Chatelet, a l'Opera de Massy puis a Yerres, enfin a Evian (accompagnee, pour cette occasion, par l'Orchestre Symphonique de Lyon).

En 2013, apres un concert a l'Oratoire du Louvre a Paris a l'occasion du Nouvel An, Naoko donna un recital a la Salle Cortot avec le talentueux pianiste albanais Genc Tukici. Recital suivi de concerts a l'Opera de Vichy et au Victoria Hall de Geneve. L'annee se termina avec deux representations dans ces sanctuaires immuables de la musique : le Musikverein de Vienne et le Mozarteum de Salzbourg.

En 2014, Naoko decida de donner plus d'importance a la communion avec le public en choisissant des salles plus petites (sans sacrifier a la qualite de l'acoustique) et prit le parti d'ajouter a son repertoire classique des pieces inedites ? francaises, japonaises ou chinoises.

Dans l'etat actuel, Naoko habite a Paris et elle donne des concerts au Japon regulierement.
INFORMATION
-インフォメーション-
2019年2月20日




松井菜穂子 ソプラノコンサート

久々の日本公演!

親しみやすいクラシック音楽を提供するため、 クラシックの常識を破り、曲間に自らトークを行うスタイルが人気の、 松井菜穂子が、「大好きな歌、パリで出会った歌」をテーマに、 JTアートホール | アフィニスで、久々のソプラノコンサートを開催します! ピアノ演奏は奥谷恭代さんです。
クラシックファンのみならず、どなたでも楽しめるコンサートです。皆さま、是非おいでください!

松井菜穂子

~ソプラノコンサート~

日程 : 2019年9月28日(土)
時間 : 13:00 開場 13:30 開演
会場 : JTアートホール アフィニス
東京都港区虎ノ門2-2-1 JTビル2F
・東京メトロ 銀座線 「虎ノ門駅」3番出口 徒歩4分
・東京メトロ 銀座線・南北線 「溜池山王駅」9番出口 徒歩5分
・東京メトロ 日比谷線・千代田線・丸ノ内線 「霞が関駅」A13番出口 徒歩7分
出演 : 松井菜穂子(ソプラノ) 奥谷恭代(ピアノ)
料金 : 一般 ¥5,000(全席指定)
チケット 3月28日(木)より発売開始!

・オンザフィールド
[電話] 050-5525-1493(平日11:00~18:00)
[Web] オンザフィールドWebShop

・カンフェティ
[電話] 0120-240-540(平日10:00~18:00)
[web] カンフェティWeb
主催・問合せ:株式会社オンザフィールド
050-5525-1493(平日11:00~18:00)
WEBSHOP
-ウェブショップ-
CONTACT
-お問い合わせ-